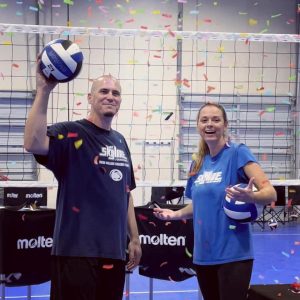 Hugh and Stephanie Hernesman
Philosophy:
We believe that innovative, current and creative training is the most important thing when developing players. Each player has their own level that they can achieve and it is our responsibility as coaches to help them get there. Our training is "solution-based". With years and years of experience training athletes of all levels, we feel that one solution for one player might not be one for another. It is our job to figure out what that is.
While in the gym training, we have two basic rules:
1) Be a great teammate
2) 100% effort at all times
We emphasize the process over results while training- knowing that the process will lead to team and individual success. So you will find that we encourage mistakes because we know that only by pushing ourselves to the next level, can we reach it.
Experience:
40 total seasons of collegiate coaching experience
11 seasons of club coaching experience
Clemson University (NCAA DI, Atlantic Coast Conference)- Hugh, Head Coach; Stephanie; Assistant
Northwestern State University (NCAA DI, Southland Conference)- Co-Head Coaches
Ball State University (NCAA DI, Mid-American Conference)- Assistant Coaches
USA Volleyball High Performance– Badger Region and North Texas Region
Hardin-Simmons University (NCAA DIII, American Southwest Conference)- Hugh, Head Coach; Stephanie, Assistant
West Texas Heat Volleyball Club– Stephanie, Director, Hugh, Assistant Director
Milwaukee Sting Volleyball Club– (15 Gold, Open Qualifier)- Stephanie, Head Coach; Hugh, Assistant
UW-Whitewater (NCAA DIII, Wisconsin Intercollegiate Athletic Conference)- Assistant Coaches
Coaching achievements:
3-time Conference Coach of the Year- 2006 (Hugh), 2012 (both), 2014 (both)
2002 NCAA DIII National Championship (UW-Whitewater)
10 NCAA Tournament appearances
8 Conference Championships
WHAT THEY'RE SAYING
Steve Shondell- American Volleyball Coaches Association Hall of Famer; Former NCAA DI Head coach and Club Coach for Munciana Volleyball Club:
"Hugh is a very good friend and was one of the classiest coaches in collegiate volleyball…(Hugh and Steph) are coaches that any parent would want their daughter to play for."
Stacey DiFrancesco – Former player at Northwestern State (2011-14):
"Couldn't have asked for better coaches to play for. Hugh and Steph are a major reason why I got into to coaching and I will never be able to thank them enough for every single thing they did for us! Beyond thankful and blessed that they are such a huge part of my life!!"
Kris Russell- Former Head Coach at UW-Whitewater; 4-time AVCA National Coach of the Year; 812 career wins; Hall of Fame:
"Hugh and Steph have been outstanding coaches, turned programs around, and are stand up people. Not only have they proven themselves as great volleyball coaches but they truly care about their players. They have given them the opportunity to grow into young women that their parents can be proud of. There is no greater calling than that."
Jordan (Raney) Friday- Former club player for West Texas Heat (2004-07); Played NCAA DII at Lubbock Christian:
"Seriously the best coaches I have ever had…and I am so thankful that I was able to play club under them. They go above and beyond! Hugh and Steph were the reason I was prepared to play as a college athlete and the reason I was recruited. They helped instill the love of the game for me. Thank you for WHO you are, both as role models and coaches."
Megan (Lawrence) Boyd- Former player at Hardin-Simmons University (2004-06):
"When I was a player under Hugh Hernesman and Steph Hernesman at HSU, I always used to say that I trusted them so much that if they told me that I needed to fly to the moon to be a better volleyball player, then I'd be on the next spaceship out. Hugh and Steph are truly the most incredible coaches I know. I was an athlete for about 18 years which held a LOT of coaches, and I've been a coach myself for the last 9 years, and they still set the bar for who I want to be as a coach. They have integrity. They love and respect their players. They have extremely high expectations. They know how to challenge, push, drive, and yet have fun all at the same time. They made me into an athlete I didn't know I could be. They are very dedicated, loyal, and hard working. On top of all this, they daily live-out and model a wonderful marriage and family dynamic with their precious son and daughter! It was truly a tremendous gift and privilege to play for them, and I cherish the friendship I still have with them."
Dr. Ashley Heyman- Former player at Ball State University (2007-08):
"Hugh and Steph are some of the most selfless people I will ever come to know. They did everything you could for me, even (Hugh) writing a letter of recommendation for me to get into medical school after I left Ball State. Many years later, I'm now a doctor, and I partially owe it to them for the kindness they bestowed upon me. I would be willing to do whatever I can for the people who continue to inspire me to work hard and be positive."
Joe Lind; Director- TAV Houston Volleyball Club; Former NCAA DI Assistant Coach: 
"I've known Steph & Hugh since their Ball State days and they are two class acts. If they were to continue to coach college, I would have sent kids to their FAMILY & CULTURE at any program they are associated with."
Amanda Kunz- Former player at Northwestern State University (2012-14): 
"Hugh and Steph made my experience at NSU something I'll never forget and cherish forever!! Not only did they make volleyball fun, challenging and competitive. They also helped shaped me into the adult person I am today and taught me so many life lessons- making me a better person in general!! I can't thank them enough for the experiences and opportunities I was given the three years I had with them at NSU!! Hugh and Steph made the program, players, and school better by their presence and standards!"
Vanessa (Vanlandingham) Wright- Former player at Hardin-Simmons University (2006): 
"A big part of my growing up happened while I was playing for Hugh and Steph. Maybe without them knowing, they both helped me through one of the toughest battles of my life with my family. They told me what kind of athlete I could become if I was willing to work hard. That is exactly what I did. I listened to Hugh and Steph whole heartedly and worked as hard as I could for them because I had the utmost respect for them. I can't thank them enough for everything they did for me, and my team. Because of their dedication, love for us as individuals, and love for the game of volleyball, they have inspired hundreds of girls to become hard working women."
Gabi Carbone- Club Coach and Recruiting Coordinator for Willowbrook Volleyball Club: 
"I have sent a few kids to them and I would send my daughter to play for them!!! Amazing people and coaches!!!!"
Lynn Barnett- Mother of Lilly Barnett, Former club player at West Texas Heat Volleyball Club (2004-07):
"(Hugh and Steph) had a tremendous impact on my daughter and our family 'back in the day' when we were lucky enough to have them as the coach of our club team. As parents, we hope and pray for coaches that are not only going to teach our child something about the sport, but more importantly something about character and what it means to be an example for others. They all did that in an amazing way."
Brenda Martin- Mother of Bailey Martin, Former player at Northwestern State University (2013-14): 
"Hugh and Steph are hands down the most devoted college volleyball coaches I know. Not only do they provide excellent training and knowledge to their girls they lead on the court, but they also teach them life lessons and treat them like part of their own family. My daughter was very fortunate to play for 2 years at NSU for Hugh and Steph and they coached the team straight to a Southland Conference championship! The impact that Hugh and Steph had on our daughter's athletic college experience was above and beyond what any parent could ask and pray for. Their dedication to the sport as well as those they coach is far above the norm. We were very blessed at NSU to have Hugh and Steph."